Shaders Catalogue
The purpose of this guide is to let you know about the different stuff you can do in reshade and show you why to use it instead of doing post-processing in common editing software.
I have gone through all the effects of every repo I could find and made this list with some (hopefully understandable) explanations. I don't have in-depth knowledge of every shader, so if you think you can write a better explanation, trick, or go into more in detail on how it works, please feel free to make a pull request or contact someone from Framed to update this guide. The same goes if there is a shader in the list that is outdated, if the link is not the newest version or if you want to include more shaders.
If you are not familiar with reshade and want to know about how to use it, shader order, shader duplication, and other tricks be sure to check out the Setting up Reshade guide.
I wrote this guide with the goal in mind of selecting the shaders that can be useful in post-processing screenshots, which means I haven't included CRT shaders or flashlight shaders for example. I also did not include a lot of curves, saturation, contrast, etc. shaders since a lot of them did essentially the same thing (with some exceptions that used very specific algorithms). If you feel like one of these might be worth including, again please do so. In the meantime, I have included most of prods shaders for these types of shaders.
For more info about how each shader works or tips for using them, check the shader's code if there is info about it in the comments, the readme file from the repo the shader belongs to or if there is a thread on the reshade forums presenting the shader.
If you are going to download each shader separately, make sure you download the necessary files (like .fxh header files) and textures that come along with it.
Essentials
These are the shaders that I consider essential to screenshotting. If you have to leave with something from this list, it is among these.
Depth of Field
One of the advantages of using reshade over other post-processing software (besides the obvious real-time post-processing) is the use of the depth buffer. With a depth buffer, effects like depth of field become second nature whereas if you would want to apply said effect with another software, not only will it take way more time, it would probably not look as good as it does with reshade.
Deband
Deband: Have you ever seen gradients that don't seamlessly blend into each other? That's called banding. It happens when there aren't enough tones available to recreate a seamless gradation. This shader is meant to fix that. Be sure to grab the one linked since it has an option to adjust the depth of where the shader should act (since most of the time it should be applied only in backgrounds). Deband is part of the official Reshade shaders the Reshade installer will install for you always.
qUINT_deband.fx: Fixes blocky color gradients and breaks up crushed texture detail.
Lighting shaders
Maybe it's not right to call these shaders essentials, but I find that, if used right, these shaders can greatly increase a composition. What they do is basically simulate points of light in the scene, and they light up the scene while also drawing shadows. Extremely useful for giving more depth to portraits, but keep in mind that, given that it uses the depth buffer to "understand" the scene and lighting correctly, it won't behave exactly like vanilla, in-game light:
NiceGuy Lamps: Add up to 4 point lights with customizable color, brightness, location, optional fog, and optional screen space shadows with customizable soft shadows. Fog intensity, Specular reflection intensity, and Specular reflection roughness are fully customizable. Reflection uses GGX (all credit to LVutner) and Diffuse light uses Lambert model. Fog is fake.
Marty's ReLight: Marty's spin on the concept. The shader benefits a lot with some smooth normal algorithms that make the lights look basically vanilla. And given Marty's years of experience with RTGI you can expect this to have as much, if not more, work behind how the lights should behave.
after ReShade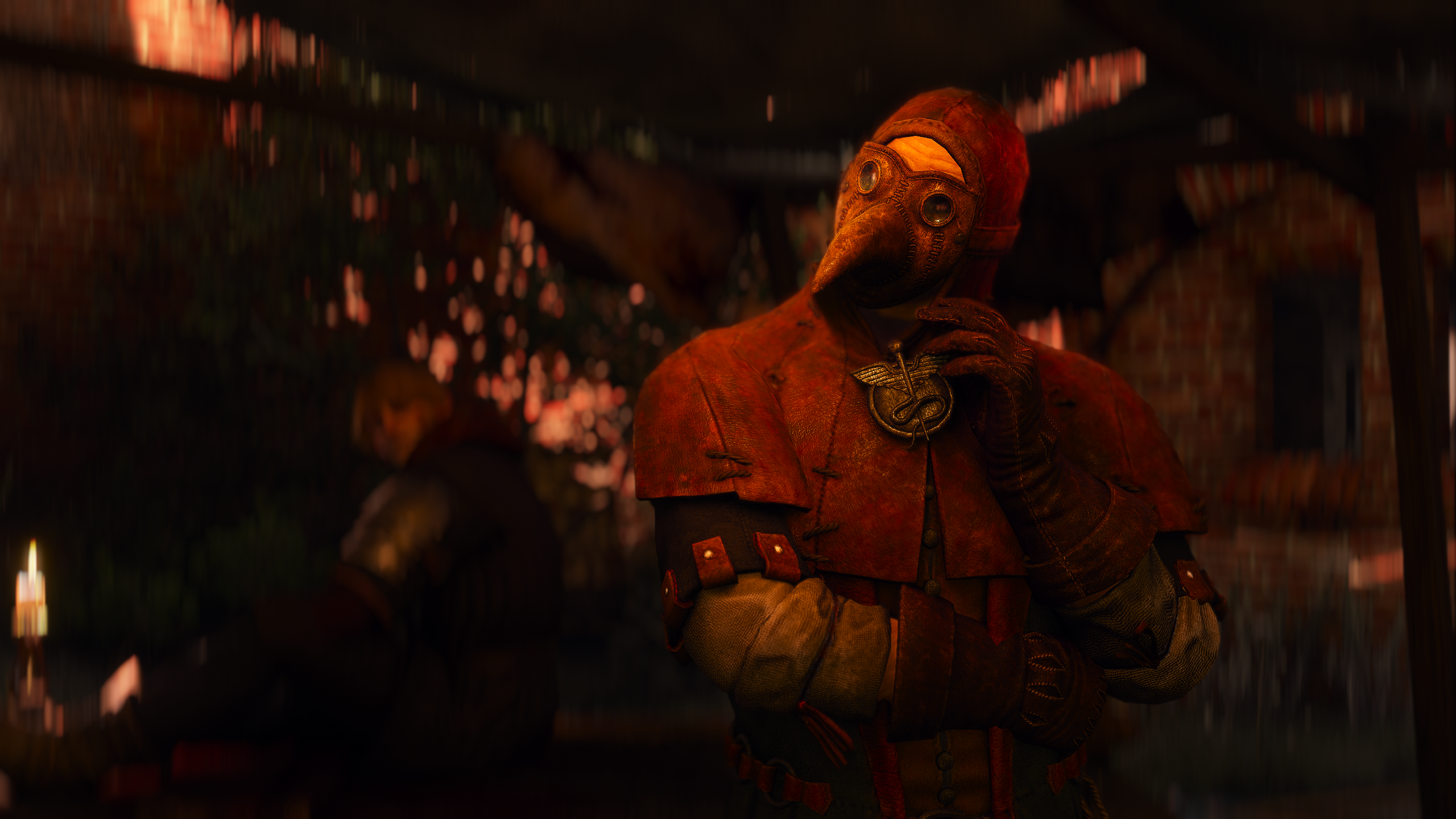 before ReShade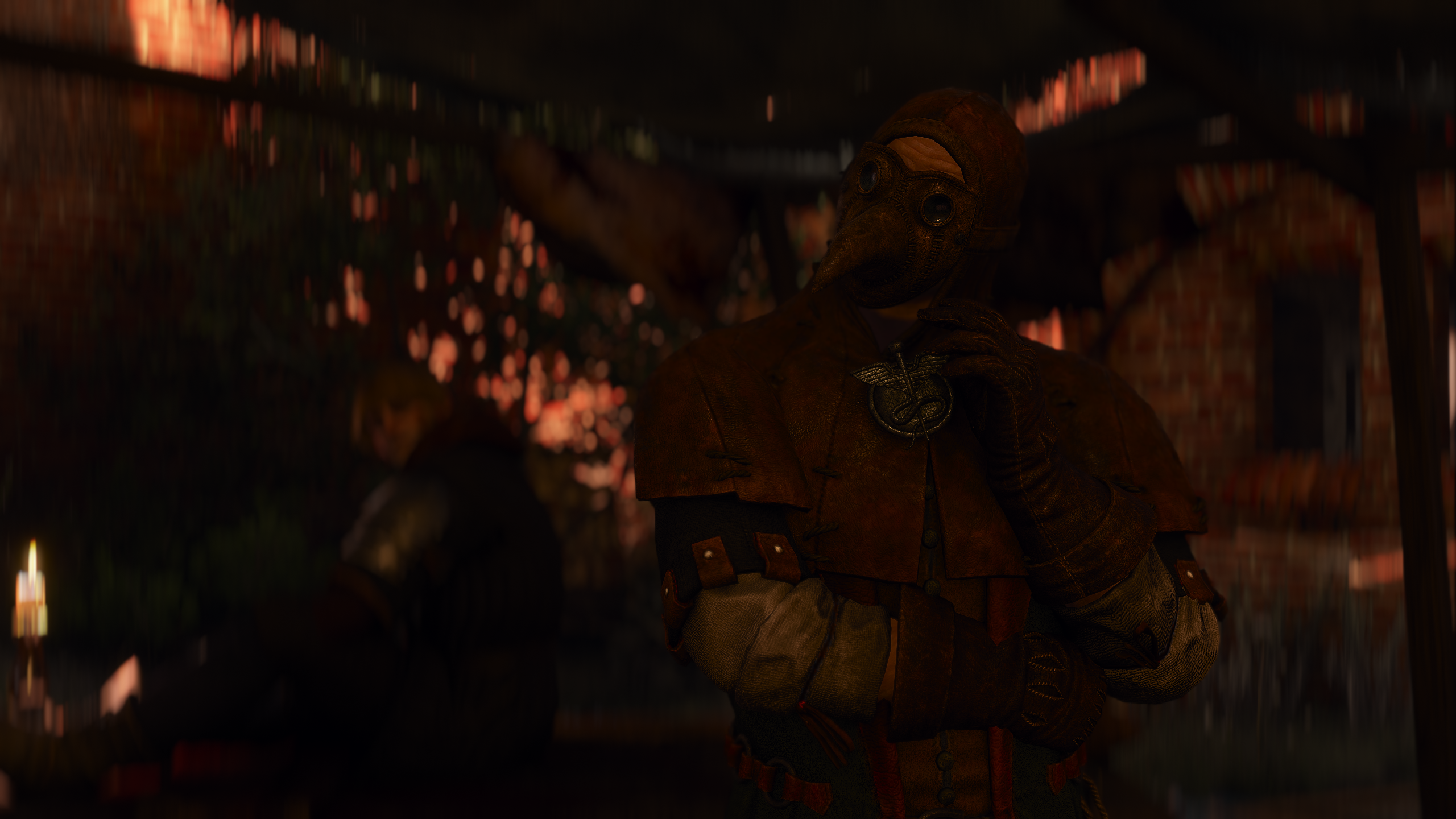 test
after ReShade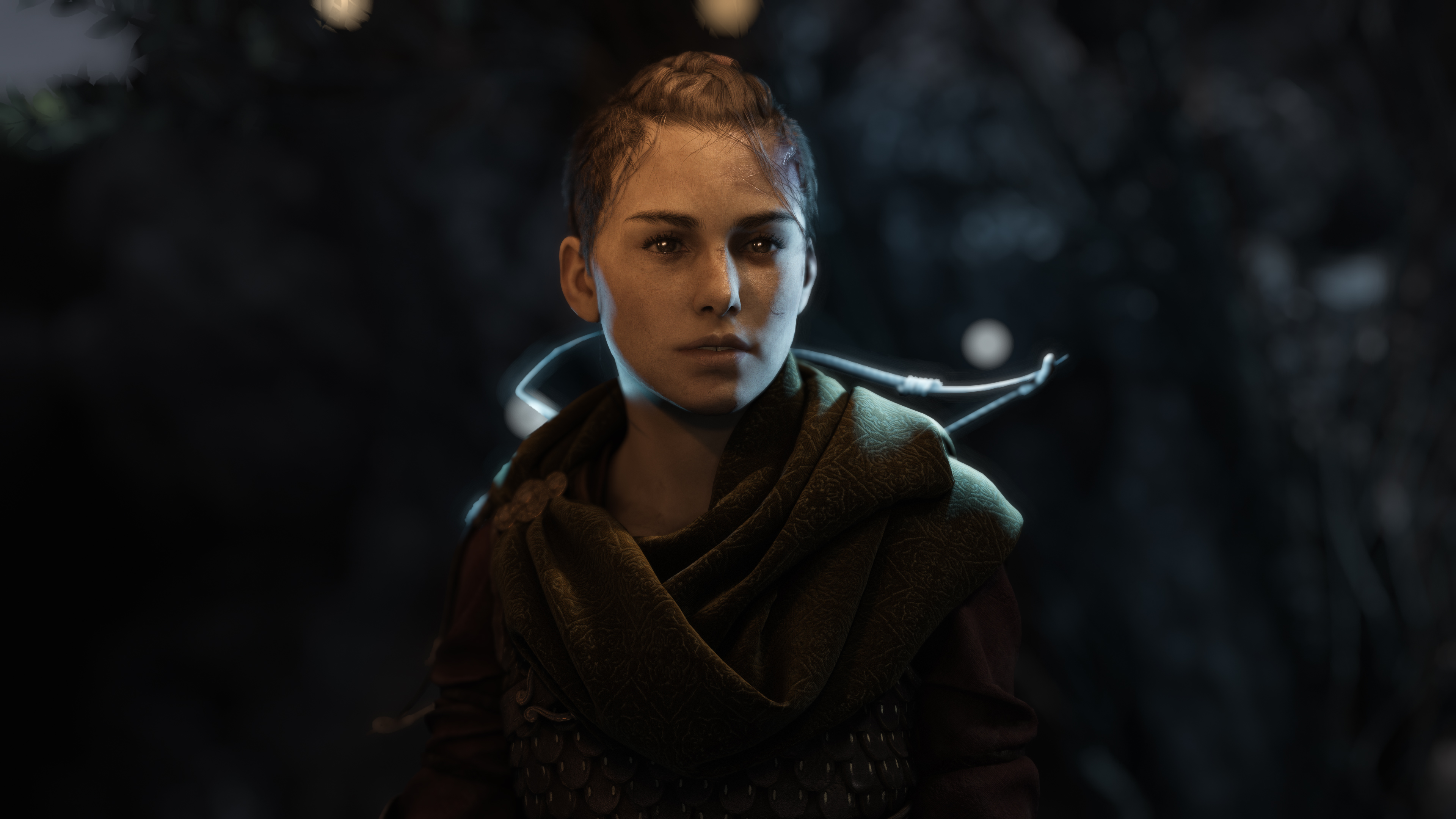 before ReShade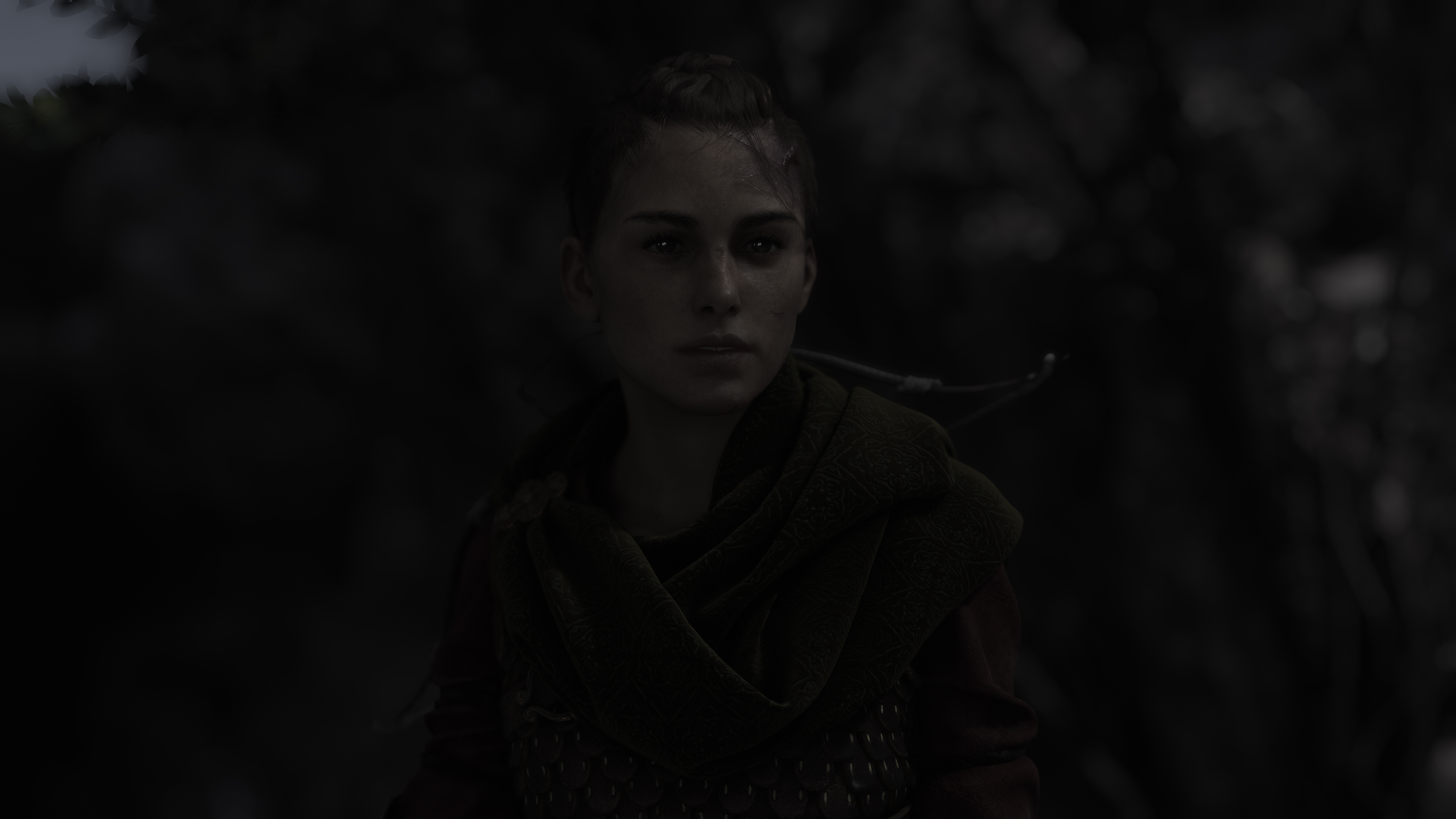 A Plague Tale: Requiem by Dread
Screenshotting
Composition Stuff
Shaders that are useful for composition and cropping.
Histograms
If you want a histogram while shooting and editing in reshade. Same as you would find in photoshop or lightroom.
Hotsampling
A collateral effect of hotsampling is that if the game is rendering in high definition, you will only see part of the game on your screen. These shaders render the game in a thumbnail preview/picture-in-picture view so that you can see the whole game window on your monitor. It is also useful for looking at the screenshot as a thumbnail to see how well it reads and looks in a smaller size, and what probably most people will see when they first stumble upon your shot.
HotsamplingHelper: As explained above, draws a scaled-down version of the image onto the screen. The size and position of the overlay are configurable.
FreezeShot: This one is similar to the previous shader whilst also adding the capability to rotate the thumbnail, so it's useful for seeing how a vertical shot will look after rotating it (in the case you are not using a vertical AR). The shader has more options that are irrelevant to the purpose stated here and will be touched on later. Be sure to turn on the Black Background option and use a value of 1 in the Layer Depth value for an easier hotsampling experience.
MagnifyingGlass
MagnifyingGlass: Sometimes you may want to zoom in on a specific part of the screen to check stuff like banding for example. This shader allows you to do so.
Graphics improvements
I am using quotes since the title can be deceptive. What I mean by it is that these shaders can be used in most situations since they can improve how a scene looks, especially in old titles. It's worth pointing out that most of these shaders are situational, so you will have to ask yourself if the scene benefits from the use of a specific shader. But before listing the shaders I will first introduce you to one that can be useful in conjunction with the rest.
ReVeil: Similar to the dehaze option in photoshop, except that it also allows you to reintroduce the haze afterward. Super useful with ambient occlusion or raytracing effects to help them look native. Put the shaders that you don't want to see on top of smoke/fog/mist between the Reveil_Top and Reveil_Bottom techniques. RadiantGI has native reveil support so it doesn't need it.
Anti Aliasing
You are probably familiar with the term, if not Anti Aliasing helps reduce the "sawtooth" you see in games. Even if the game has an anti-aliasing option, these shaders can help you in situations where the game anti aliasing breaks the depth buffer (MSAA for example) or where said anti-aliasing implementations are old. These shaders use different implementations of different types of Anti Alisings; SMAA tends to give great results, but feel free to try them and see which one suits you best.
Raytracing
You probably stumbled across the term. Raytracing technology aims to simulate light and shadows more precisely. Even tho a game implementation of this kind of technology would be more accurate than a reshade implementation, most games don't do ray tracing within them and so these shaders can be useful, especially in old titles. - DH_UBER_RT: All-in-one RT shader (GI, AO and SSR). - dh_rtgi - Marty's RTGI: With a lot of work put into it, Marty's RTGI is the way to go. You might need to learn how to configure it. - RadiantGI: BlueSky implementation of global illumination plus subsurface scattering. Can be used in conjunction with Marty's RTGI, but it also works very well on its own. It would require you to learn how to use it. - NGLighting: Remember to pick up the NGLightingUI.fxh file from the repo.
Ambient Occlusion
Ambient occlusion aims to simulate shadows based on the scene geometry. As with ray tracing, it's often very useful with old titles.
Reflections
qUINT_ssr: Adds reflections to the scene, using the data that is already available in the image. As a Screen-Space technique, it suffers like all similar implementations from the fact that nothing outside the screen can be reflected. It also cannot distinguish between reflective and non-reflective surfaces, so it will just cover everything with a reflection layer.
ReflectiveBumpMapping: previous version of qUINT_ssr (or so I understand). It's here for archival purposes, use the shader if possible.
Scatter: Add roughness to qUINT_SSR or to denoise DH_RTGI (screenshot comparison). If you want to do both, make a copy of the shader file so you have two pairs of it in your stack. DEPRECTAED: using NiceGuy Lighting instead is strongly recommended.
Bloom
As they sound, bloom shaders are used to imitate bloom in a scene.
Light Rays
PPFX_Godrays: If you want to add godrays to a scene then this shader can help you with that.
TrackingRays: Similar to the previous shader but the orientation of the rays is automatic.
Fun effects
If the shaders in the "graphics improvement" section were situational, these are even more. They would probably require some fiddling but use them if you are going for a very specific look. In some of them, instead of explaining what they do, I will be dropping screenshots because it would be easier to see than read about them.
Painty shaders
Oilify: Applies a Kuwahara painty filter using an optimized method for extracting the image mean and variance separably.
Outlines
Lens Flare
Screenshot with alpha pixels
Used to screenshot using pixels with an alpha value of 0 depending on the depth of the shot. You will probably need to use the latest version of reshade for these.
Images
Shaders used for rendering an image in-game (like changing the sky). Can be used in combination with shaders like DepthAlpha and CuttingTool_Depth very well.
StageDepthPlus: Allows manipulating an image, letting you resize it independently from the x and y-axis, positioning it, rotating it, using depth for masking and the ability to use different blending modes. You can also use a depth map alongside the texture image to interact with the game's depth.
Styles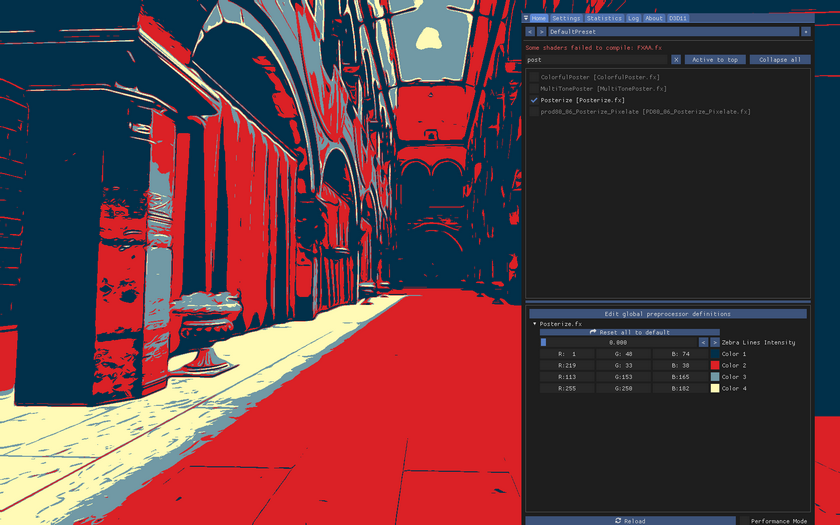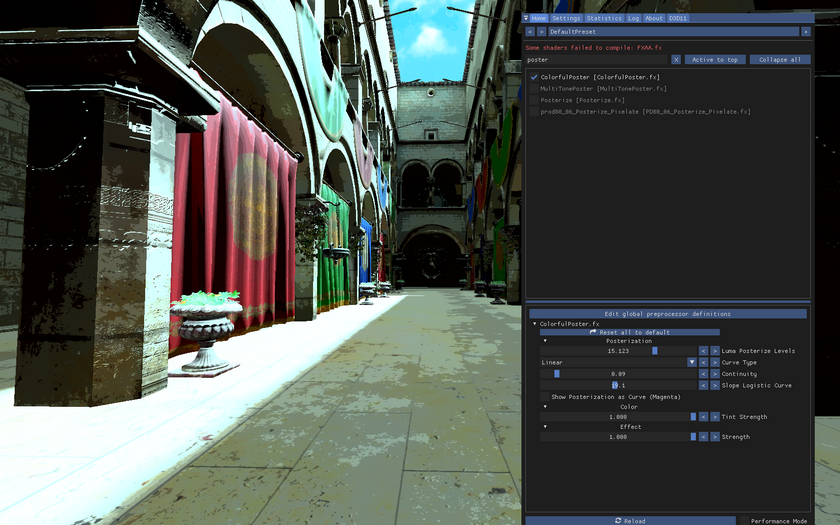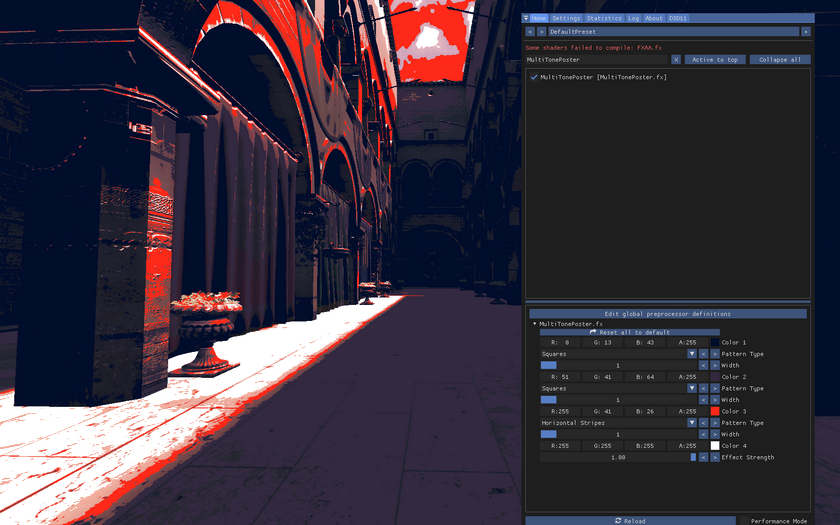 Nostalgia: Tries to mimic the look of very old computers or console systems.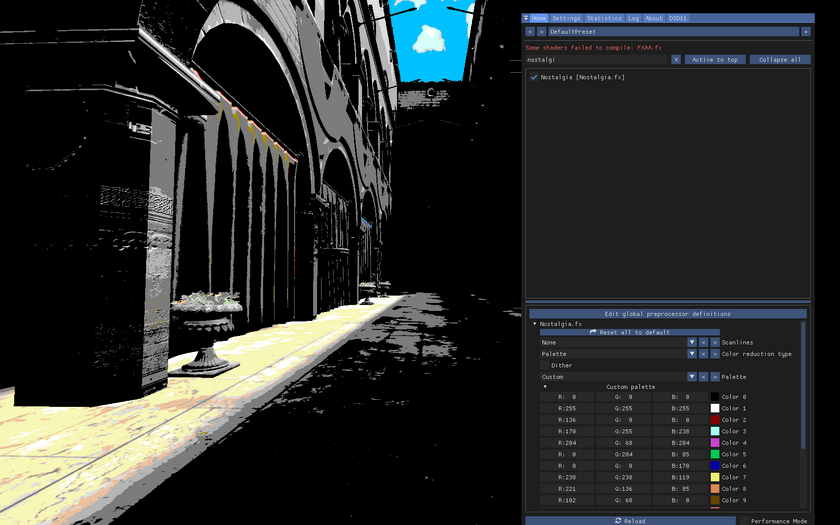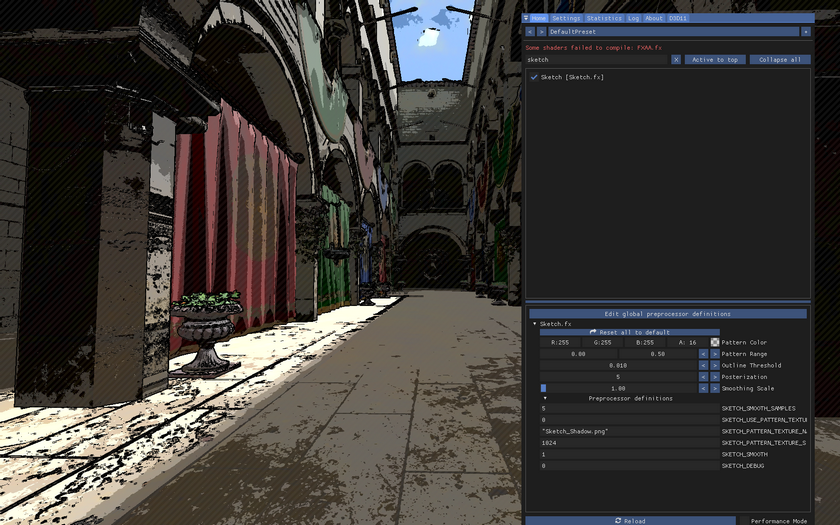 Masking
If you are familiar with photoshop or lightroom you probably know what masking is. If not, masking is referred to as the act of selecting what parts of the screen you want some editing to take effect, often represented by white and black pixels for (white = the effects in between the CanvasMask shaders will be visible there, black= those effects won't be visible). The shaders that are in between the "Before" and "After" techniques of each mask shader will be masked out of the scene.
Common software editing tools
So this section has shaders that are similar to what you could expect from editing software like Lightroom or Photoshops camera raw. Some of these implementations may be different from what you might find in these kind of software, so even if at first glance it may look like these shaders can be seen as "stuff you can do in post after taking the shot" it might be worth trying them anyway.
If you want a detailed explanation about what most of prods shaders do make sure to check his reshade forum thread.
Editing
Sharpening and texture
Tonemapping and color grading
Film grain
Chromatic Aberration
Emboss
Extra
LUTs
LUTs are a very important part of doing post-processing, that being for screenshotting or just playing. For a more detailed look at what LUTs are and how to make your own go to this guide. If you want a great source of LUTs head over to gordinho MLUT shader repo. Below I would list some of my favorites.
MultiLUTFaustus
Film_Presets_MLUT
Instagram_Filters_MLUT
Kyoto_MLUT
Luminar_MLUT
MLUTCRP
MLUTMarkimoo
MultiLUT_MLUT_FreeLooks
MultiLUT_MLUT_Luminar
Nomad_MLUT
Sahara_MLUT
Santorini_MLUT
Slide_Color_MLUT
Strawberry_MLUT
Street_Photography_MLUT
Sunset_Color_MLUT
Travelers_MLUT
Triune_Digital_Cinematic_MLUT
Urban_Cinematic_MLUT
Various_MLUT
Wanderlust_MLUT
Wanderland_MLUT
Anime_MLUT
Hyperbeast_MLUT
I would like to also point out to prods LUTS (make sure to download the textures as well):
If you want to test any MLUT shader in an image file try out this lut tester Fraulk made.
And that's it, I hope I convinced you to start using reshade or presented you with a shader you didn't know. If you want to add more please write an issue on the sites repo, or create a pull request adding it!